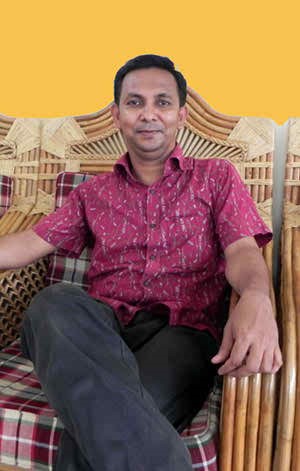 Dr. Shaikh Bokhtear Uddin was born in the Village Kushulia of Kaligonj Thana under Satkhira District, Bangladesh, and brought up there. He passed the S.S.C. Examination from his own Village School in 1985 and H.S.C. from the Govt. City College, Chittagong in 1987. He received his B. Sc. Honours and M. Sc. Degree from the Department of Botany, University of Chittagong, Chittagong 4331, Bangladesh in 1990 (held in 1993) and 1991 (held in 1995) respectively.
Started career a research fellowship in NCS Implementation Project, Survey of Flora 1, he began his specialization in the field of Plant Taxonomy and Ethnobotany. In 1997 he received the CICHE award (organized by the British Council) for Ph. D. through Aberdeen-Chittagong University Biodiversity Link Project.
Dr. Uddin awarded his Ph. D. from the Department of Plant and Soil Science, University of Aberdeen, Scotland, UK in 2002. He is the first in Bangladesh who awarded Ph. D. in the field of Ethnobotany. Then he left for Canada in 2002 as an immigrant and stayed there for 9 months. In June 2005 he returned and joined the University of Chittagong as a lecturer of Botany. In March 2004, he was promoted to Assistant Professor. Dr. Uddin also enjoyed a Postdoctoral fellowship at New York Botanical Garden Herbarium, Bronx, New York, USA from September 2005 - January 2006. Then he has promoted to Associate Professor in January 2010.
Now he has promoted as a Professor in the same department and engaged in teaching and research in the field of Ethnobotany, Biodiversity, Pharmacognosy and Conservation. He visited many research organization and herbaria viz. RBGE Herbarium, Royal Botanic Garden, Edinburgh; Kew Herbarium, Royal Botanic Garden, Kew, England; Natural History Museum Herbarium, London; Central National Herbarium, Calcutta, India; New York Botanical Garden Herbarium, Bronx, New York, Natural History Museum, New York, USA and Vascular Plant Herbarium (TRT), Royal Ontario Museum, Toronto, Canada.
His research have resulted four books and many articles in national and international journals. He is member of Bangladesh Association of Plant Taxonomist, Bangladesh; Bangladesh Botanical Society, Bangladesh; Society for Medicinal Plant Research, Germany; International Society for Research on Natural Products and life member of Biodiversity Research Group of Bangladesh (BRGB). He presented many research articles in different conferences and symposium at home and on abroad. He has visited UK, India, USA, Canada, Thailand, Saudi Arabia and Malaysia to attend seminars and visit research organizations. Ethnobotanical Database of Bangladesh is one of his major contributions in the field of Ethnobotany which include the traditional use of plant species of the tribal communities of Bangladesh.